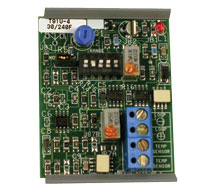 * product family image displayed
T85U-2XWM | Kele | Temperature Sensors & Transmitters
XMTR 1K OHM 385 -20/140F ENCLOSED
Manufacturer:
Kele
MPN:
T85U-2XWM
SKU:
T85U-2XWM
Availability:
28 In Stock
product family specifications
±0.2°F or 0.2% of the span TCR 0.00385 Ω/Ω/°C
4-20 mA @ 675Ω, two wire loop-powered, except display @ 375Ω
-30° to 250°F (-34° to 121°C) Minimum span of 40°F (22°C)
-30° to 210℉ (-34.4° to 98.9℃)
-30° to 250℉ (-34.4° to 121.1℃)
1000Ω platinum TCR 0.00385 Ω/Ω/°C
0° to 140°F (-18° to 60°C)
0.16 lb (0.07 Kg) w/o options
CE (EN50081-1, EN50082-1)
Optional CE (EN50081-2, EN50082-2) Industrial RF/EM Hardened
product family features
Loop calibration test signal
Loop-powered LED indication
Fits into card slot of ST-U85 housing
CE approved (commercial and industrial)
Available as a complete assembly
more information & related documents
The Kele T85U 1000 ohm RTD rangeable transmitter is a range selectable, two-wire 4-20 mA RTD transmitter used with Type 85 1000Ω platinum RTD sensors. The transmitter is available in six standard ranges, or it can be set for any range between -30° to 280℉ (-34° to 156℃) with a minimum span of 40℉ (22℃). To adjust the T85U, set the DIP switches to match the desired range, and use the zero and span pots to fine tune. A high accuracy digital ohmmeter and decade box are required. The T85U has a special 20 mA loop calibration test signal to provide easy system verification. Simply move the bottle plug jumper from norm to 20, and the transmitter will output a constant 20 mA. The loop-up LED provides power indication for the 4-20 mA output.
XMTR 1K OHM 385 -20/140F ENCLOSED