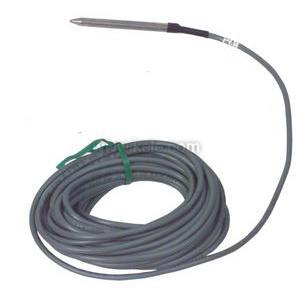 ST-R3SC | Kele | Temperature Sensors & Transmitters
Bullet Temperature Sensor, 10,000Ω Encapsulated Thermistor @ 77°F (25°C), Type III (Gray leads), Stainless Steel Sheath, 25 ft Rugged Cable
Manufacturer:
Kele
MPN:
ST-R3SC
SKU:
ST-R3SC
Availability:
98 In Stock
add to cart

product specifications
#20||APB-28||PN-46||TCC-111||TCC-12||T85U-XR||T81U-XR||T91U-XR||UR||DCP-1.5-W||DCPA-1.2
Cold Water Systems||Hot Water Systems||Retrofit||Hydronic Heating Systems||Chillers
Bullet Temperature Sensor, 10,000Ω Encapsulated Thermistor @ 77°F (25°C), Type III (Gray leads), Stainless Steel Sheath, 25 ft Rugged Cable
TEMP SENSOR, BULLET, 10K TYPE III, 3.00" PROBE
product family features
Wide selection of thermistor and RTD curves
Tip sensitive for precise temperature response
Durable 304 stainless steel casing
Easy to mount to wall, box, or pipe
more information & related documents
The Precon ST-R_S, ST-R_SC Series Stainless Steel Sheath Sensors from PreCon provide precise remote temperature sensing for building automation systems and mechanical equipment room instrumentation. The active sensing element is a highly stable precision thermistor material or platinum RTD. Each sensor has a sensing element that is ruggedized and sealed with a thermally conductive compound in a versatile 3" (7.6 cm) long stainless steel tube. The probe is waterproof, and the sensor is ideal for use in refrigeration cases, or as a strap-on sensor for pipes. The thermistor operating range is -30° to 230℉ (-34° to 110℃). The RTD operating range is -68° to 240℉ (-55° to 116℃). The Model ST-R_S Stainless Sheath Sensor is suitable for direct application to pipe surfaces for chilled or hot water measurement. It is also used for freezer cases where moisture protection is important. This rugged strap-on sensor comes with an 8-ft (2.4m), 24-gauge zipcord lead. The Model ST-R_SC Stainless Steel Sheath Sensor comes with a rugged 25-ft (7.6m) cable when ordered with the &#8243C&#8243 option. The 25-ft (7.6m) cable allows for termination away from areas of condensation. It is an ideal choice for freezer case applications.
FREEZER 10K TYPE 3 OHM THMS