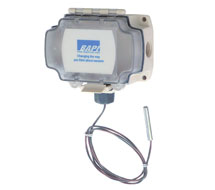 * product family image displayed
BA1KRPFEP25B | BAPI | Temperature Sensors & Transmitters
STRAP-ON 1K RTD 385 REMOTE PROBE 5FT BAPI BOX
Manufacturer:
BAPI
MPN:
BA1KRPFEP25B
SKU:
BA1KRPFEP25B
product family specifications
Thermistor:
±0.36°F (0.20°C)
Thermistor:
10kΩ, Type II & III
RTD:
100Ω, 1000Ω 385 curve, 1000Ω 375 curve
Thermistor:
-40° to 221°F (-40° to 105°C)
1002:
212° to 410°F (100° to 210°C)
1k1:
-328° to 32°F (-200° to 0°C)
1K3:
392° to 1112°F (200° to 600°C)
Stability:
<0.036°F (0.02°C) per year, 0.14°C with 6,000 continuous hours at 400°C
Heat Dissipation:
2.7 mW/°C (power need to raise the temperature 1°C), 0.4°C/mW at 0°C
BB:
NEMA 4, BAPI Box-IP66, UV-resistant, polycarbonate
BB2:
NEMA 4, BAPI Box 2-IP66, UV-resistant, polycarbonate
BB4:
NEMA 3R, BAPI Box 4-IP44, Nylon & plastic
WP:
NEMA 3R, cast aluminum
Mounting:
Directly to wall or pipe
Wiring Terminations:
22 AWG wire, etched teflon leads
RPFEP15:
0.65 lb (0.29 Kg)
product family features
Three watertight enclosure,Use in Strap-on applications,Limited Lifetime warranty,Use in Freezer applictions
more information & related documents
The BAPI BA Series Extreme Temperature Thermistor and RTD Sensors are designed for use in applications from -200 degrees to 600 degrees C. The parts come with stainless steel probe and packages to handle moisture and wide temperature ranges. Remote Temperature Probes feature a 1.75 in long stainless steel probe with either Plenum-Rated Cable or FEP-Jacketed Cable. Lead lengths are 18 in, 5 ft, 10 ft, 15 ft, 20 ft, and 25 ft. Remote Probes are commonly used in refrigerated case or strap-on applications. They are ideal for hard-to-access areas or for applications where the usual Immersion or Duct Sensors do not fit well.
STRAP-ON 1K RTD 385 REMOTE PROBE 5FT BAPI BOX