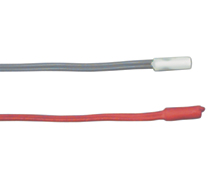 ST-R24X100RS400 | Kele | Temperature Sensors & Transmitters
RAW SENSOR 10K TYPE 2 OHM RUGGED 100 FT RS400
Manufacturer:
Kele
MPN:
ST-R24X100RS400
SKU:
ST-R24X100RS400
availability:Usually Ships in Less Than 14 Business Days
add to cart

product family specifications
2.252 kΩ, 3 kΩ, 10 kΩ Type II, III & III w/11K shunt, 20 kΩ, 100 kΩ
-40° to 221℉ (-40° to 105℃)
Negative temperature coefficient
Positive temperature coefficient
0.24℉ (0.13℃) over five years
2.7 mW/℃ (power needed to raise the temperature 1℃)
Directly to wall or customer supplied enclosure using customer-supplied clips
8', 24 AWG wire leads, type 71 & 81 sensors have 18" leads
product family features
Wide selection of thermistor and RTD curves
Adaptable miniature sensor
High heat dissipation constant
Pre-aged, highly stable thermistor material
more information & related documents
The Precon ST-R, ST-R_R Series Encapsulated Sensors from PreCon provide precise remote temperature sensing for building automation systems and mechanical equipment room instrumentation. The active sensing element is a highly stable precision thermistor material or platinum RTD. The sensor is encapsulated with a low mass, high conductivity compound for good heat transfer characteristics. It is enclosed in a tough, miniature cylinder, 0.17" in (0.43 cm) diameter, which is small enough to be installed in most HVAC thermostat enclosures.
RAW SENSOR 10K TYPE 2 OHM RUGGED 100 FT RS400