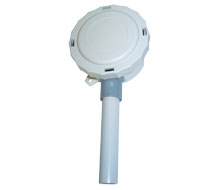 * product family image displayed
A/RH2-CP-O-SUN | ACI | Temperature Sensors & Transmitters
TEMP SENSOR, OSA, RH/TEMP SENSOR SUN SHIELD
Manufacturer:
ACI
MPN:
A/RH2-CP-O-SUN
SKU:
A/RH2-CP-O-SUN
Availability:
Lead time > 15 days. See alternatives below or chat with Sales.
add to cart

product family specifications
10 kΩ Type II & III, 20 kΩ, 100 kΩ
-40° to 194℉ (-40° to 90℃)
0.24°F (0.13°C) over five years
Thermistor, 3 mW/°C (power needed to raise the temperature by 1°C)
10" of 22 AWG wire or terminal strip
product family features
±0.36℉ (0.2℃) accuracy thermistor, ±0.5℉ (0.4℃) accurecy RTD
Wide selection of thermistor or RTD curves
more information & related documents
The ACI Series OSA Thermistor and RTD Sensors are designed specifically for HVAC system temperature control. The OSA sensors come in thermistor and RTD sensor curves compatible with most BAS systems available today. OSA sensors mount in a watertight box with weather shield and easy-mount tabs. The ACI OSA Sensor should be located on an outside wall facing north in the northern hemisphere. Using the tabs on the box, mount to the exterior wall using screws appropriate for the wall construction.
TEMP SENSOR, OSA, RH/TEMP SENSOR SUN SHIELD