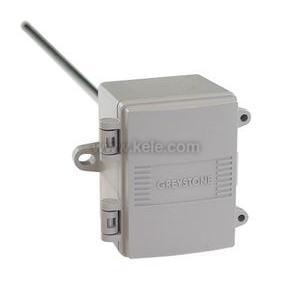 TSAPC13C | Greystone Energy Systems | Temperature Sensors & Transmitters
All Purpose Duct/Immersion Temperature Sensor, ABS, With Hinged and Gasketed Cover, with Terminal Block, 1000 Ω Nickel, Class B, DIN 43760, 150mm (6") Probe
Manufacturer:
Greystone Energy Systems
MPN:
TSAPC13C
SKU:
TSAPC13C
availability:
Usually Ships in Less Than 12 Business Days
add to cart

product specifications
T81U-XR||T85U-XR||T91U-XR
Air Handling Unit||Duct Temperature
All Purpose Duct/Immersion Temperature Sensor, ABS, With Hinged and Gasketed Cover, with Terminal Block, 1000 Ω Nickel, Class B, DIN 43760, 150mm (6") Probe
TEMP SENSOR, IMMERS, 1K NI RTD, 6.00" PROBE, POLY ENCL
product family features
All-purpose, single-point, duct/immersion temperature sensor
Stainless-steel probe
Available in various lengths
more information & related documents
The Greystone TSAPA, TSAPC, and TSAPE Series are all-purpose, single-point, duct/immersion temperature sensors that utilize precision sensors encapsulated in a 6-mm (0.236"), 304 series stainless-steel probe. They are available in various lengths. All probes provide excellent heat transfer, fast response, and resistance to moisture penetration.
TEMP SENSOR, IMMERS, 1K NI RTD, 6.00" PROBE, POLY ENCL