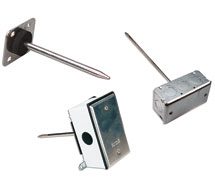 * product family image displayed
TDBWR00 | Veris Industries | Temperature Sensors & Transmitters
DUCT TEMP 4 IN 10K T2 THMS HIGH ACC
Manufacturer:
Veris Industries
MPN:
TDBWR00
SKU:
TDBWR00
Availability:
Usually Ships in Less Than 12 Business Days
product family specifications
2.2k, 3k,20k,100k:
±0.11℉ (0.2℃)
10k Type 2 & 3:
± 0.06℉ (0.1℃)
100, 100 385 curve:
±0.17℉ (0.3℃)
Thermistor:
2.2kΩ, 3kΩ, 10kΩ Type 2 & 3, 20kΩ, 100kΩ
RTD:
100Ω, Pt 385 Curve; 1000Ω, Pt 385 Curve
Thermistor/RTD:
-13° to 221℉ (-25° to 105℃)
Output:
Resistance, 4-20 Ma @ 500Ω
Thermistor:
Negative temperature coefficient
RTD:
Positive temperature coefficient
Mounting:
Directly to duct
Wiring Terminations:
22 AWG pigtails; 3' to 5' (0.91 -1.52 m)
Probe length:
4″ (10 cm), 6″ (15 cm), 8″ (20 cm), 12″ (30 cm), 18″ (45 cm), 24″ (61 cm) and 36″ (91 cm)
Enclosure:
mounting plate, handiox or weather proof enclosure
Weight:
w/o different enclosures
more information & related documents
The Veris TD, TF, TG and TDDA Series Duct Thermistor and RTD Sensor provides precision remote temperature sensing for building automation systems and mechanical equipment room instrumentation. The sensing element is a highly stable precision thermistor material or platinum RTD. The TD Series is a stainless steel tube and mounting plate with lenghts of 4 in (10 cm), 6 in (15 cm), 8 in (20 cm), 12 in (30 cm), 18 in (45 cm), 24 in (61 cm) or 36 in (91 cm). The TF Series has metal handi box, while the TG Series has a weatherproof enclosure. The TDDA Series has weather proof enclosure and analog output.
DUCT TEMP 4 IN 10K T2 THMS HIGH ACC