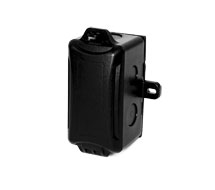 * product family image displayed
A/AN-D-12-EXPL | ACI | Temperature Sensors & Transmitters
TEMP SENSOR, DUCT, 12" EXPLOSION PROOF 10K-3
Manufacturer:
ACI
MPN:
A/AN-D-12-EXPL
SKU:
A/AN-D-12-EXPL
Availability:
Usually Ships in Less Than 8 Business Days
add to cart

product family specifications
10 kΩ Type II & III, 20 kΩ
-40° to 275℉ (-40° to 135℃)
0.24℉ (0.13℃) over five years
Thermistor, 3 mW/℃ (power needed to raise the temperature by 1℃)
-40° to 302℉ (-40° to 150℃)
Seamless Stainless steel tube, 1/4″ (0.64 cm) O.D.
less probe 4.5″W x 2.3″H x 2.3″D (11.4 x 5.8 x 5.8 cm)
product family features
Selection of thermistors and RTDs
Immersion and duct applications
more information & related documents
The ACI Plastic Box Series Thermistor and RTD Sensors are designed specifically for HVAC system temperature control. The A/*PB duct and immersion sensors come in thermistor and RTD sensor curves compatible with most BAS systems available today.
TEMP SENSOR, DUCT, 12" EXPLOSION PROOF 10K-3