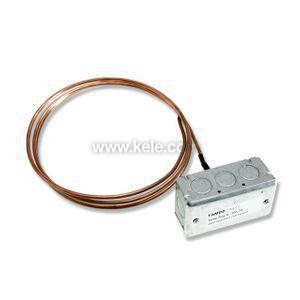 TAMB1 | Veris Industries | Temperature Sensors & Transmitters
Avg 6 Ft 100 Ohm 385 RTD NIST 1 Pt
Manufacturer:
Veris Industries
MPN:
TAMB1
SKU:
TAMB1
Availability:
Usually Ships in Less Than 12 Business Days
product specifications
Avg 6 Ft 100 Ohm 385 RTD NIST 1 Pt
AVG 6 FT 100 OHM 385 RTD NIST 1 PT
more information & related documents
The Veris TA & TAR Series Flexible and Rigid Averaging Thermistor and RTD Sensor provides precision remote temperature sensing for building automation systems and mechanical equipment room instrumentation. The sensing elements are constructed of highly stable precision thermistor materials or platinum RTDs. The TA Series is the flexible averaging sensors with sizes of 6 in (1.8m), 12 in (3.7 m) and 24 in (7.3 m). The TAR Series is the rigid averaging sensor with lengths of 12 in (30 cm), 18 in (45 cm), 24: (61 cm), 30 in (76 cm) and 36 in (91 cm).
AVG 6 FT 100 OHM 385 RTD NIST 1 PT