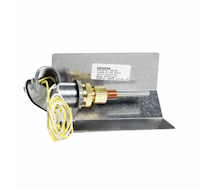 * product family image displayed
544-342-24 | Siemens Industry | Temperature Sensors & Transmitters
FLEXIBLE AVERAGING DUCT SENSOR, 1K OHM PLATINUM, 24-FOOT
Manufacturer:
Siemens Industry
MPN:
544-342-24
SKU:
544-342-24
Availability:
Lead time > 15 days. See alternatives below or chat with Sales.
add to cart

product family specifications
product family features
Variety of sensor types: thermistor and RTDs
more information & related documents
The Siemens Thermistor and RTD temperature Ouside Air (OSA) sensors are designed for HVAC and BAS systems. The sensors come complete and ready to install for their specific application.
FLEXIBLE AVERAGING DUCT SENSOR, 1K OHM PLATINUM, 24-FOOT
Siemens OSA sensor Installation manual