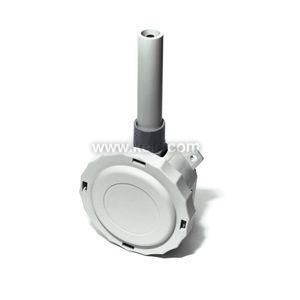 A/100KS-O-EH | ACI | Temperature Sensors & Transmitters
Outside Air, 100K Thermistor, Euro Housing
Manufacturer:
ACI
MPN:
A/100KS-O-EH
SKU:
A/100KSOEH
availability:Usually Ships in Less Than 14 Business Days
add to cart

product specifications
T81U-XR||T85-XR||T91U-XR||DCP-1.5-W||DCPA-1.2||UR
Cold Stores||Greenhouses||Production Plants||Warehouses
Outside Air, 100K Thermistor, Euro Housing
TEMP SENSOR, OSA, 100K, POLY ENCL
product family features
±0.36℉ (0.2℃) accuracy thermistor, ±0.5℉ (0.4℃) accurecy RTD
Wide selection of thermistor or RTD curves
more information & related documents
The ACI Series OSA Thermistor and RTD Sensors are designed specifically for HVAC system temperature control. The OSA sensors come in thermistor and RTD sensor curves compatible with most BAS systems available today. OSA sensors mount in a watertight box with weather shield and easy-mount tabs. The ACI OSA Sensor should be located on an outside wall facing north in the northern hemisphere. Using the tabs on the box, mount to the exterior wall using screws appropriate for the wall construction.
TEMP SENSOR, OSA, 100K, POLY ENCL