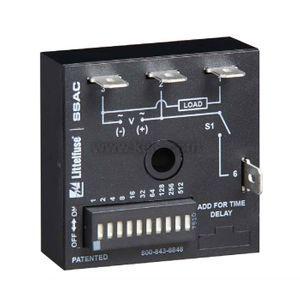 TDUB3000A | Littelfuse | Relays & Contactors
Timer-DOB 24-120VAC 1A DIPsw 1-1023s 2x2
Manufacturer:
Littelfuse
MPN:
TDUB3000A
SKU:
TDUB3000A
product specifications
Timer-DOB 24-120VAC 1A DIPsw 1-1023s 2x2
DLYONBREAK 24-120AC, 1A SLD STATE, ADJ 1-1023 SEC
product family features
Onboard adjustment knob,1A solid state or Isolated 10A output,Compact 2in x 2in sizing,Wide voltage and timing ranges
more information & related documents
The SSAC KRDB Series is a compact time delay relay measuring only 2 in. (50.8 mm) square. Its microcontroller timing circuit provides excellent repeat accuracy and stability. Encapsulation protects against shock, vibration, and humidity. The KRDB Series is a cost effective approach for OEM applications that require small size, isolation, reliability, and long life. The KSDB is designed for general purpose commercial and industrial applications where a small, cost effective, reliable solid-state timer is required. The factory calibration for fixed time delays is within 5% of the target time delay. The repeat accuracy, under stable conditions, is 0.5% of the selected time delay. This series is designed for popular AC and DC voltages. Time delays of 0.1 seconds to 1000 minutes are available in 6 ranges.\nThe output is rated 1A steady and 10A inrush. The modules are totally solid state and encapsulated to protect the electronic circuitry. The TDUB Series combines digital timing circuitry with universal voltage operation. Voltages of 24 to 240VAC and 12 to 24VDC are available in three ranges. The TDUB Series offers DIP switch selectable time delays ranging from 0.1 seconds to 102.3 minutes in three ranges. Its 1A rated output,\nability to operate on multiple voltages, and wide range of switch selectable time delays make the TDUB Series an excellent choice for process control\nsystems and OEM equipment.
DOB 24-120AC, 1A SLD STATE, ADJ 1-1023 SEC