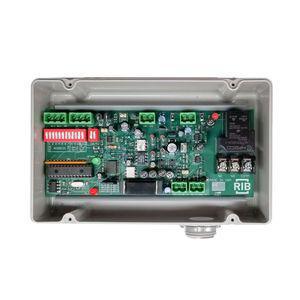 RIBTW24B-BCAO | Functional Devices | Relays & Contactors
Enclosed BACnet® MS/TP Network Relay Device, One Binary Output + Override, One Binary Input, One Analog Output, One Analog Input
Manufacturer:
Functional Devices
MPN:
RIBTW24B-BCAO
SKU:
RIBTW24B-BCAO
product specifications
20A @ 277 VAC||2 HP @ 277 VAC||1 HP @ 120 VAC
Enclosed BACnet® MS/TP Network Relay Device, One Binary Output + Override, One Binary Input, One Analog Output, One Analog Input
176 mA @ 24 VAC||150 mA @ 24 VDC
ENCLOSED RELAY, 1-SPDT, 24 VAC/DC, 20A
product family features
Enclosed BACnet relay with 20A contacts,Additional dry contact input (powered by Class 2 circuit),LED indication of network status and relay status,UL listed and BACnet compatible, CE
more information & related documents
The Functional Devices Model RIBTW2401B-BC and RIBTW2402B-BC BACnet Relay in a Box are open-protocol relays controlled from a remote location using a BACnet network. The relay is powered locally, and communication with the network is over a twisted pair of wires. Using standard BACnet objects, the relay can be commanded on and off over the network and the relay state communicated back. A separate digital input is provided to communicate the status feedback signal from a current switch (or other switched feedback device) to the BACnet network.
BACNET ENC RLY 20A 24VAC/DC; ANALOG OUT