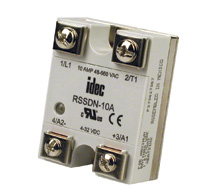 RSSDN-25A | IDEC | Relays & Contactors
SOLID STATE RELAY, 4-32VDC/48-660VAC, 25A
Manufacturer:
IDEC
MPN:
RSSDN-25A
SKU:
RSSDN-25A
add to cart

product family specifications
20 mA @ rated voltage (maximum)
10A,25A models: (holding) 50 mA
50A, 75A, 90A models: (holding) 100 mA
1.6V (maximum) @ rated current
1-Cyle 150A, 1-Second 30A;
1-Cyle 300A, 1-Second 75A;
1-Cyle 750A, 1-Second 150A
Reverse Voltage Protection
2.25" H x 1.75" W x 0.95" D (5.72 x 4.45 x 2.41 cm)
UL-recognized component, File #E194577: CE certified
more information & related documents
The Model RSSDN Solid State Relay from IDEC is a photo-isolated solid state relay for HVAC applications and Building Automation Systems, BAS. The 4-32 volt DC input voltage allows the relay to be used on analog or digital outputs. The solid-state relays provide reliable switching and long-life operation. However, these relays require careful application because excessive temperature, high inrush currents, or induced currents can affect solid state relay operation.
SOLID STATE RELAY, 4-32VDC/48-660VAC, 25A
Data Sheet