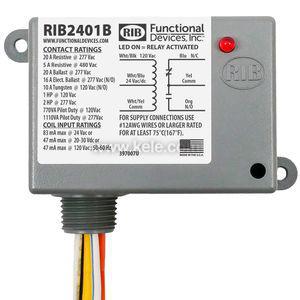 RIB2401B | Functional Devices | Relays & Contactors
Enclosed Relay 20 Amp SPDT with 24 Vac/dc/120 Vac Coil
Manufacturer:
Functional Devices
MPN:
RIB2401B
SKU:
RIB2401B
Today's Price:
$21.50
(61% OFF LIST PRICE!)
Availability:
254 In Stock
product specifications
20A @ 277 VAC||5A @ 480 VAC||2 HP @ 277 VAC||1 HP @ 120 VAC
Enclosed Relay 20 Amp SPDT with 24 Vac/dc/120 Vac Coil
ENCLOSED RELAY, 1-SPDT, 24 VAC/DC/120 VAC, 20A
product family features
Convenient and economical to use,Relay status indicator via LED,Coil uses low current and accepts a wide range of AC and DC voltages,Closed/Open/Auto switch option available,Nipple or screw mountable,Compact, gray plastic enclosure,Color-coded wires for eliminating errors,UL listed for UL916 Energy Management and UL864 Fire,Made in the USA
more information & related documents
The Functional Devices Relay In a Box (RIB) Power Series controls most BAS, HVAC, low-horsepower motor and lighting applications. The relays come mounted and pre-wired in a housing, saving the installer the time, trouble and expense of buying separate components (relay, socket, mounting rail, and enclosure) and assembling them on the job or at the shop. The RIB Power Series has a protruding 1/2in or 3/4in NPT nipple from which all wires exit (except T series). To install, remove a conduit knockout in the equipment, insert the wires and nipple through the hole, tighten the locknut, and connect the wires. RIB Power Series - 20, 30A Relays\nThe RIB Power Series has relay contacts rated for 20 and 30A. They require modest coil drive current and are used for direct switching and control of heavy electrical circuits, such as large resistive, motor, and lighting loads. RIBT Series - High/Low Voltage Separation\nThe RIBT Series is designed to provide physically separate entrances for connections to the relay input coil and output contacts. Relay contact wires exit the housing through a 1/2in or 3/4in NPT nipple. The cover of the RIBT Series is removable and, with star bushings or 1/2in conduit, the coil drive wires can enter the housing through one of two convenient openings. The coil drive wires are secured to screw terminals within a separate wiring compartment in the RIBT. Most of the RIBs in the Power Series are also available in the T Series.
SPDT POWER RELAY 24VAC/DC,120V