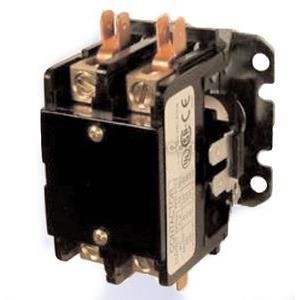 T30A2-C | EE Controls | Relays & Contactors
Definite Purpose Contactor, 2 Pole, 30A, 240 VAC, No Auxiliary Switch
Manufacturer:
EE Controls
MPN:
T30A2-C
SKU:
T30A2-C
Availability:
Usually Ships in Less Than 10 Business Days
product specifications
Electrical Loads||Air Conditioning||Refrigeration Compressor||Motors||Resistance Heaters
Definite Purpose Contactor, 2 Pole, 30A, 240 VAC, No Auxiliary Switch
CONTACTOR, 2 POLE, 240 VAC, 30A, NO AUX SW
more information & related documents
The EEC T30, T40, T60 and T90 Series of definite purpose contactors can be used in air conditioning, compressors, refrigeration, heaters and HVAC applications. They are rated for 200,000 electrical operations and 2 million mechanical operations. The coils are rated 80 to 105% voltage, 65VA inrush and 7.5VA sealed. These contactors are available in 1, 2 or 3 pole configurations up to 100 Amps.
DP CONTACTOR 2 POLE 30FLA 240VAC COIL