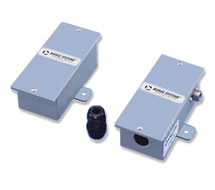 * product family image displayed
PR-264-R4-MA | MAMAC Systems | Pressure
PRESS XMTR, +/-1.00%, 0-700 PSIG, 4-20 MA
Manufacturer:
MAMAC Systems
MPN:
PR-264-R4-MA
SKU:
PR-264-R4-MA
Availability:
Usually Ships in Less Than 14 Business Days
add to cart

product family specifications
12 to 40 VDC, 12 to 35 VAC @ 10 mA
Signal Output (Volts,Current)
0-5V @ 1KΩ, 0-10V @ 1KΩ, 4-20 mA @ 600Ω
3 selectable PSIG/kPa ranges (See ordering)
300% of max pressure range
Max Operating Pressure (Proof)
500% of max pressure range
Liquid/Gasses compatible w/316 SS
1/2″ gland, Terminals- 2 used-(4-20mA), 3-(Volts)
Painted Metal, NEMA 4, (IP66), or panel mount
˜6.0″W x 2.25″H x 4.0″D, (15.2 x 5.7 x 10.2 cm)
product family features
100% solid state fused silicon pressure sensor
Rugged, leak-proof stainless steel monolithic pressure cavity with no welds, o-rings, or seams/bonds
Up to 3 field selectable ranges in one unit
Rugged NEMA-4 (IP-65) enclosure with external mounting bracket
Short circuit and reverse polarity protected
Conforms to EMC and RoHS standards
more information & related documents
The MAMAC Systems Model PR264 Pressure Transmitter incorporates sophisticated integrated circuits and a new fused silicon monolithic cavity pressure sensor to not only provide a high-level, fully-conditioned and temperature compensated output, but also to offer up to three (3) field selectable pressure ranges in one unit. The field selectable feature eliminates costly inefficiencies by providing a single unit which can be configured to cover all the pressure ranges for a particular application. For instance, 25.0, 50.0, and 100.0 psig in one unit. The stainless steel monolithic pressure cavity not only provides media compatibility for most of the applications, but also offers a leak-proof solution for today's environment conscious customers. Two industry standard output versions are available, 4-20mA 2-wire loop or field selectable 0-5 VDC/0-10 VDC. Wide 12-40 VDC or 12-35 VAC unregulated supply voltage and a broad 0°F - 180°F compensated temperature range ensures compatibility to most of the applications. Rugged NEMA 4 (IP-65) enclosure, gasketed cover, external mounting bracket, fully temperature compensated NIST traceable accuracy and a liberal five year warranty are some of the features which make the Model PR264 the industry's most reliable, rugged, and economical pressure sensor.
PRESS XMTR, +/-1.00%, 0-700 PSIG, 4-20 MA