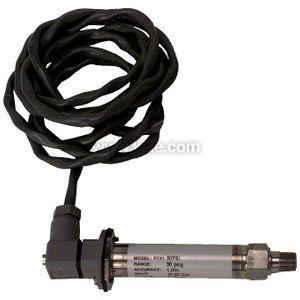 PTX1-09 | Kele | Pressure
Pressure Transmitter with Cable, 0-200 psig (0-1379 Pa)
Manufacturer:
Kele
MPN:
PTX1-09
SKU:
PTX1-09
Availability:
95 In Stock
add to cart

product specifications
Pressure Transmitter with Cable, 0-200 psig (0-1379 Pa)
PRESS XMTR, ±1.00%, 0-200 PSIG, 0-1379 PA, 4-20 MA
product family features
For steam, water, glycol, ammonia, refrigerants, and more
Reverse polarity protected
Plug-in, splash-proof connector with 6' cable
Stainless steel wetted parts
Optional watertight polystyrene enclosure
Optional LCD/red digital indication
Optional gauge available for mediums compatible with brass
more information & related documents
The Kele PTX1 Series Stainless Steel Pressure Transmitter utilizes a thin film strain-gauge bridge and stainless steel diaphragm to provide a highly accurate, stable means of measuring gauge pressures up to 2000 psig (13.79 MPa). Splash-proof cable connections protect the wiring, allowing the PTX1 Series to be mounted near the medium being measured. Optional indication is available as a digital display or as a 2" (5.1 cm) gauge.
STAINLESS 0-200 PSI/4-20 MA