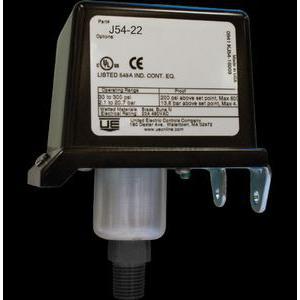 J54-25 | UNITED ELECTRIC QUOTE # 7975 | Pressure
Pressure Switch, 10-100 psi Adjustable Range, 1 to 2.5 psi Deadband, Buna N Diaphram and O-ring 1/4" FNPT
Manufacturer:
UNITED ELECTRIC QUOTE # 7975
MPN:
J54-25
SKU:
J54-25
product specifications
15 A @ 125 VAC||15 A @ 250 VAC||15 A @ 480 VAC
Pressure Switch, 10-100 psi Adjustable Range, 1 to 2.5 psi Deadband, Buna N Diaphram and O-ring 1/4" FNPT
PRESSURE SWITCH, ADJUSTABLE, 10-100 PSI
product family features
Low cost,NEMA 1 enclosure,Compact size,15A SPDT switch
more information & related documents
The J54 Series Pressure Switch uses a diaphragm to sense changes in pressure to open or close an electrical circuit. These pressure switches are ideal for building automation systems, BAS. The control set point can be varied by turning the internal adjustment hex screw. The switch is available with adjustable ranges from 3 psi (21kPa) to 500 psi (3448 kPa).
PRESSURE SWITCH, 10-100 PSI
UNITED ELECTRIC QUOTE # 7975

J54 Instruction Manual