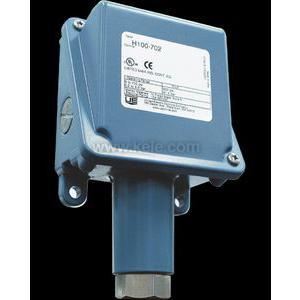 H100-192 | United Electric | Pressure
Pressure Switch, 15-300 psi Adjustable Range, 3 to 18 psi Deadband, Welded 316 Stainless Steel Diaphram, 1/2" FNPT
Manufacturer:
United Electric
MPN:
H100-192
SKU:
H100-192
availability:Usually Ships in Less Than 30 Business Days
add to cart

product specifications
15 A @ 125 VAC||15 A @ 250 VAC||15 A @ 480 VAC
Pressure Switch, 15-300 psi Adjustable Range, 3 to 18 psi Deadband, Welded 316 Stainless Steel Diaphram, 1/2" FNPT
PRESSURE SWITCH, ADJUSTABLE, 15-300 PSI
product family features
Single switch (SPDT or DPDT) output
Epoxy Coated and Gasketed Cast Aluminum Enclosure Type 4X
Tamper-Resistant Set Point "Lock"
Pump switch models with wide adjustable deadband
Ultra low pressure, "wc models
Welded stainless steel diaphragm models
Optional sensor material for corrosive media
more information & related documents
The H100 Series Pressure Switch is rugged with one piece enclosure features a slanted cover for wiring accessibility. A wide variety of microswitch and process-connection options make this versatile series ideal for applications requiring a rugged weather-proof mechanical switch. This series contains models with variety of adjustable set point ranges and pump switch models with wide adjustable deadband.
PRESS SW, ADJUSTABLE, 15-300 PSI