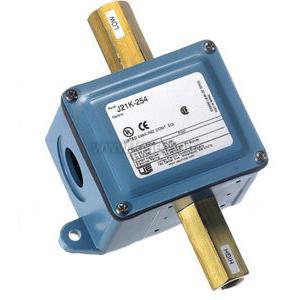 J21K-254 | United Electric | Pressure
Differential Pressure Switch, 0-90 psid
Manufacturer:
United Electric
MPN:
J21K-254
SKU:
J21K-254
add to cart

product specifications
15 A @ 125 VAC||15 A @ 250 VAC||15 A @ 480 VAC
Differential Pressure Switch, 0-90 psid
DIFF PRESS SW, ADJUST, 0-90 PSID
more information & related documents
The J21K Series Differential Pressure Switches utilize opposing metal bellows to detect pressure differences between two pressure sources. When the pressure at the high port exceeds the pressure at the low port by a pre-determined amount (set point), it activates the differential pressure switch with a single snap-action. These differential pressure switches are ideal for HVAC, industrial and building automation systems applications. To adjust the control set point, turn the internal hex screw.
DIFF PRESS SW, ADJUST, 0-90 PSID
Instruction Manual