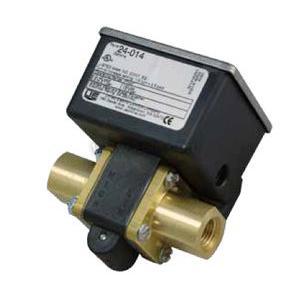 24-014 | United Electric | Pressure
Delta-Pro Pressure Switch 4-45 psid
Manufacturer:
United Electric
MPN:
24-014
SKU:
24-014
availability:
264 In Stock
add to cart

product specifications
Delta-Pro Pressure Switch 4-45 psid
DIFF PRESS SW, ADJUST, 4-45 PSID
product family features
SPDT switch with screw terminals
Gasketed zinc-plated steel cover
Strong, corrosion-resistant polyester enclosure
External, multiturn adjusting screw for excellent resolution
7/8" hole for 1/2" NPT conduit connection
Corrosion-resistant brass port
Front accessible holes for surface mounting
more information & related documents
The Delta-Pro Models 24-013 and 24-014 NEMA 4 differential pressure switches offer a unique blend of small size, excellent performance, environmental protection, and attractive price. They can be used with liquids or gases. The precision snap-acting switch and sensitive opposing diaphragms combine to provide a narrow deadband and repeatability of approximately ±1% of span. Mechanical contact life is 10 million cycles, and actual switch life can be very long with typical pilot duty loads. The Delta-Pro NEMA 4 enclosure is small, yet it can still accommodate a 1/2" NPT conduit connection and terminal block wiring. The Delta-Pro is not only lightweight but also strong and durable. The multiturn adjustment screw is externally accessible for convenience and excellent resolution. The Delta-Pro's force-balance design provides excellent vibration resistance.
DIFF PRESS SW, ADJUST, 4-45 PSID