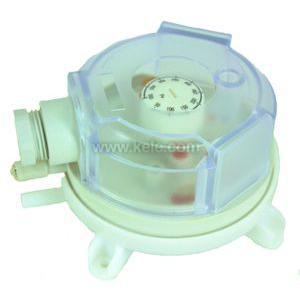 KDPS-05 | Kele | Pressure
Differential Pressure Switch, 0.20-2.00" WC
Manufacturer:
Kele
MPN:
KDPS-05
SKU:
KDPS-05
Availability:
471 In Stock
add to cart

product specifications
Differential Pressure Switch, 0.20-2.00" WC
Inches of Water Column||Pascals
DIFF PRESS SW, ADJUST, 0.20-2.00" WC
product family features
Transparent cover for setpoint confirmation
Easy, field adjustable set point
Installer kit with PVC tubing included
more information & related documents
The Kele KDPS Series Adjustable Differential Pressure Switches are general-purpose, airflow-proving switches designed for HVAC and building automation applications. The KDPS Series can be used to sense positive, negative, or differential air pressure. It is housed in a rugged plastic enclosure with a removable cover protecting the set point adjustment knob and snap action switch terminals. Electrical connections are made through a 7/8" diameter opening with M20X1.5 conduit connection. Optional 1/2" NPT connection is available by adding ″F″ to the part number.
DIFF PRESS SW, ADJUST, 0.20-2.00" WC