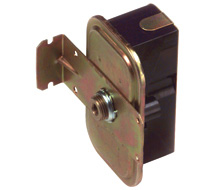 * product family image displayed
P32AF-13C | Johnson Controls | Pressure
DIFFERENTIAL PRESSURE CONTROL .03-1.4 IN WC
Manufacturer:
Johnson Controls
MPN:
P32AF-13C
SKU:
P32AF-13C
Availability:
Usually Ships in Less Than 7 Business Days
product family specifications
Relay Type :
SPDT (R=Com, B=NC, Y=NO) R to Y on DP increase
Relay Rating:
10 A resistive, 120-277, (AC only)
Setpoint :
Screw adjustment in 2 ranges
Differential Progressive:
by Setpoint from 0.025″ to 0.6″ WC
Repeatability:
±10% over full range
Reset Automatic:
reset by differential
Visual Indication:
Internal setpoint scale
Sensor Type:
Buna-N Diaphragm
Operating Pressure Range:
Range dependant on unit ordered
Overpressure:
(Burst) 27.7″WC (6.89 kPa)
Max Operating Pressure :
(Proof) 12″ WC (2.99 kPa)
Operating Temperature :
-40° to 165℉ (-40 to 75℃)
Operating Humidity:
10 to 90% Non-condensing
Media Compatibility :
Inert dry air
Process Connection:
1/8″ FNPT and 1/2″ NPSM fitting
Wiring Terminations :
3 Screw terminals, (R=Com, B=NC, Y=NO),<12 AWG
Mounting:
Vertical w/ 2- keyhole bracket 0.31 (.8cm)
:
″U″ BKT or ″L″ BKT per order
Enclosure Rating :
Zink-plated steel and polycarbonate, NEMA 1
Dimensions :
3.24″w x 5.56″ h x 2.16 d, (8.2 x 14.1 x 5.5 cm)
Weight:
1.0 lb (0.45 Kg)
Approvals:
UL File # MH10588
product family features
Easy-to-read setpoint scale,Versatile mounting options,Durable construction,Setpoint switching repeatability,One-year warranty
more information & related documents
The P32 Series Differential Pressure Switch is used to detect differential pressure or low positive gauge pressure in Building Automation Systems, BAS. Detection is achieved by using only the high pressure connection and leaving the low pressure connector open. It is also a vacuum detector, detecting vacuum by using only the low pressure connection and leaving the high pressure connector open to ambient pressure. The differential pressure switches are factory set at the bottom of their operating range with the diaphragm in a vertical plane. The setting will change if mounted in other positions. The P32AF has a close differential, and the P32AC has a standard differential.
DIFFERENTIAL PRESSURE CONTROL .03-1.4 IN WC