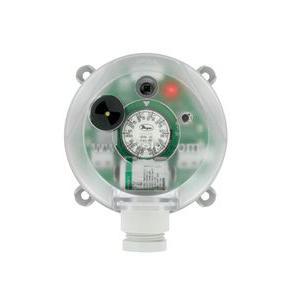 BDPA-04-2-N | Dwyer Instruments | Pressure
Adjustable Differential Pressure Alarm, Range .12-1.60" W.C., M20 Connection
Manufacturer:
Dwyer Instruments
MPN:
BDPA-04-2-N
SKU:
BDPA-04-2-N
availability:Usually Ships in Less Than 7 Business Days
add to cart

product specifications
Adjustable Differential Pressure Alarm, Range .12-1.60" W.C., M20 Connection
Audible Buzzer||Battery Power||LED
Inches of Water Column||Pascals
DIFF PRESS SW, ADJUST, 0.12-1.60" WC
product family features
Transparent cover for setpoint confirmation
Easy field adjustable set point
more information & related documents
The Dwyer ADPS Series adjustable differential pressure switches are general-purpose, airflow-proving switches designed for HVAC and building automation applications. The ADPS Series can be used to sense positive, negative, or differential air pressure. The silicone diaphragm and calibration spring are housed in a rugged plastic enclosure with a removable cover protecting the set point adjustment knob and snap action switch terminals. Electrical connections are made through a 7/8" diameter opening in the cover that accepts a 1/2" conduit connection. Air sampling connections accept 1/4" ID tubing.
DIFF PRESS SW, ADJUST, 0.12-1.60" WC