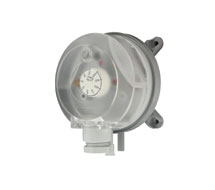 * product family image displayed
ADPS-06-2-N | Dwyer Instruments | Pressure
DIFF PRESS SW, ADJUST, 2.00-10.00" WC
Manufacturer:
Dwyer Instruments
MPN:
ADPS-06-2-N
SKU:
ADPS-06-2-N
Availability:
Usually Ships in Less Than 3 Business Days
product family specifications
Supply Voltage:
Not required
Contact Rating:
1.5A resistive, 0.4A ind. @250VAC
Setpoint (SP):
Selecatable 0.08″ to 10″ WC (See ordering)
ADPS-8:
0.08″ to 1.2″ WC (20 to 300 Pa)
ADPS-4:
0.12″ to 1.6″ WC (30 to 400 Pa)
ADPS-3:
0.2″ to 2.0″ WC (50 to 500 Pa)
ADPS-5:
0.80″ to 4.0″ WC (200 to 1000 Pa)
ADPS-6:
2.0″ to 10.0″ WC (500 to 2500 Pa)
Differential Progressive:
by setpoint (See ordering)
ADPS-8:
0.04″ to .05″WC (10-12 Pa)
ADPS-4:
0.06″ to .09″ WC (15-22 Pa)
ADPS-3:
0.08″to .09″ WC (20-23 Pa)
ADPS-5:
0.4″ to 0.5″ WC (100-130 Pa)
ADPS-6:
0.6″ to 0.8″WC (150-200 Pa)
Reset Automatic
reset by differential
Visual Indication Internal SP:
dial
Sensor Type:
Silicone Diaphragm
Operating Pressure:
Range 0 to 10″WC (See ordering)
Overpressure:
(Burst) 40.4″ WC (10kPa)
Max Operating Pressure:
(Proof) 20.0″WC (5kPa)
Operating Temperature:
-40° to 185°F (-40 to 85°C)
Operating Humidity:
10 to 95% Non-condensing
Wetted Parts:
Silicone for dry air only
Media Compatibility:
Inert dry air
Process Connection:
Two 0.23″ nipples for 3/8th tubing
Wiring Terminations:
3, 1/4″ spads w/3 Terminal push on connectors
Mounting:
4 tabs w/Holes 0.14″ (0.36cm)
Enclosure Rating Plastic,:
NEMA 13, (IP54)
Dimensions:
3.95″ w x 3.49″ h x 2.26″ d, (10 x 8.9 x 5.75 cm)
Approvals:
CE, RoHS, UL508, CSA
product family features
Transparent cover for setpoint confirmation,Easy field adjustable set point,Dual scales
more information & related documents
The Dwyer ADPS Series adjustable differential pressure switches are general-purpose, airflow-proving switches designed for HVAC and building automation applications. The ADPS Series can be used to sense positive, negative, or differential air pressure. The silicone diaphragm and calibration spring are housed in a rugged plastic enclosure with a removable cover protecting the set point adjustment knob and snap action switch terminals. Electrical connections are made through a 7/8 in diameter opening in the cover that accepts a 1/2 in conduit connection. Air sampling connections accept 1/4 in ID tubing.
DIFF PRESS SW, ADJUST, 2.00-10.00" WC