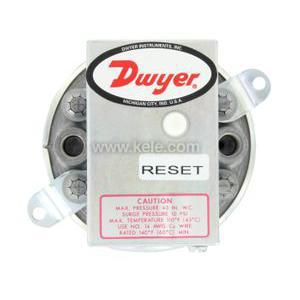 1900-5-MR | Dwyer Instruments | Pressure
Differential Pressure Switch, Range 1.40-5.5" W.C., Approx. Deadband @ Min. Set Point 0.30, Approx. Deadband @ Max. Set Point 0.30, With Manual Reset Option
Manufacturer:
Dwyer Instruments
MPN:
1900-5-MR
SKU:
1900-5-MR
add to cart

product specifications
Differential Pressure Switch, Range 1.40-5.5" W.C., Approx. Deadband @ Min. Set Point 0.30, Approx. Deadband @ Max. Set Point 0.30, With Manual Reset Option
DIFF PRESS SW, ADJUST, 1.40-5.50" WC
more information & related documents
The Dwyer Model 1900-5-MR manual reset pressure switch is designed to monitor duct static and shut down the blower when excess pressure occurs. The switch must be manually reset before the system can start again. Switch contacts are SPDT with solder-type connections. The Model 1900-5-MR measures static pressure only, not differential pressure. Order the A-399 duct pressure kit separately.
DIFF PRESS SW, ADJUST, 1.40-5.50" WC