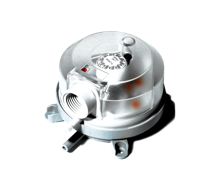 * product family image displayed
DBL-205B | ACI | Pressure
DP SWITCH, ADJUSTABLE SETPOINT RANGE 0.20 TO 2.0
Manufacturer:
ACI
MPN:
DBL-205B
SKU:
DBL-205B
Availability:
Usually Ships in Less Than 12 Business Days
product family specifications
From 0.08 - 0.8"wc to 2.0 - 10.0"wc
Adjustable Set Point Range
From 0.04 - 0.8"wc to 0.60 - 1.2"wc
Adjustable Set Point Switching Differential
Factory Default: +/- 15% of Trip / Set Point; See ordering grid below for adjustable switching differential range
250 VAC maximum, 1.5A Resistive (0.4A Inductive)
SPDT (Form 1C) w/ Automatic Reset
Air and other non-combustible, non-aggressive gases
Maximum Operating Pressure
Operating | Storage Temperature Range
-4 to 185ºF (-20 to 85ºC)
Base = PA6.6 / Cover = Polystyrene (Transparent)
Accepts 3/16" ID (8mm) Push on plastic/poly tubing
Spade (Maximum 16 AWG (1.5 mm2))
CE, ISO 9001, RoHS2, WEEE
Dimensions (Diameter x Height)
4.00" x 2.30" (100 x 58 mm)
DBL Series: 0.40 lbs (0.20 kg) | DBZ-06: 0.16 lbs (0.072 kg)
more information & related documents
The DBL Series Differential Pressure Switches are adjustable vacuum, pressure and differential pressure switches designed for both HVAC and Energy Management Applications. Due to the ease of calibration and adjustment procedures, these units will save you both installation time and money. The units have field adjustable setpoints and switching differentials. They will reset automatically. Each unit contains (1) SPDT contact rated for 1 Amps @ 250 VAC. All wiring connections are to be made with spade connectors and a maximum wire size of 16 AWG.
DP SWITCH, ADJUSTABLE SETPOINT RANGE 0.20 TO 2.0