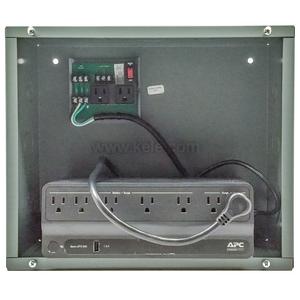 PSH600-UPS | Functional Devices | Power Supplies
Enclosed 600VA UPS Backup Power Control Center
Manufacturer:
Functional Devices
MPN:
PSH600-UPS
SKU:
PSH600-UPS
Availability:
174 In Stock
add to cart

product specifications
Enclosed 600VA UPS Backup Power Control Center
ENCLOSED 600VA UPS BACKUP POWER CONTROL CENTER
product family features
Additional 120 VAC outlet
STAT Models with LED Lights & status contacts
more information & related documents
The PSH600-UPS from Functional Devices is a replacement for the PSH550-UPS. The PSH600-UPS uninterruptable power supply, UPS, provides economical protection from damaging power interruptions and impulses in critical environments such as hospitals, laboratories, research and surgery centers. The Model PSH600-UPS features an extra 120 VAC outlet and a 10A circuit breaker on/off switch. The switch controls the incoming line voltage and can be used to verify the functionality of the UPS. The Model PSH600-UPS is ideal for those hard-to-install applications and locations where you need a UPS but also must use conduit to run your wiring. Models numbers ending in STAT have status contacts and LED Indicator Lights. When you need the right product, right now, count on Kele.
ENCLOSED 600VA UPS BACKUP POWER CONTROL CENTER