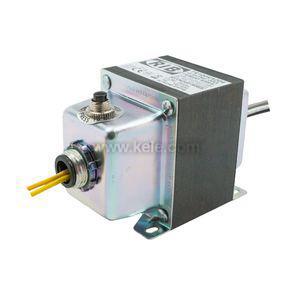 TR100VA004 | Functional Devices | Power Supplies
Transformer 100VA, 480/277/240/120 to 24 Vac, Circuit Breaker, Foot and Dual Threaded Hub Mount
Manufacturer:
Functional Devices
MPN:
TR100VA004
SKU:
TR100VA004
Today's Price:
$45.75
(61% OFF LIST PRICE!)
Availability:
1,002 In Stock
product specifications
Power Controller||Powering Sensors||Driving Relays||Driving Digitals I/O Circuits||Voltage Reduction||Magnetic Switches
Transformer 100VA, 480/277/240/120 to 24 Vac, Circuit Breaker, Foot and Dual Threaded Hub Mount
120 VAC||240 VAC||277 VAC||480 VAC
TRANSFORMER, 100 VA, 120/240/277/480 VAC, FOOT/DUAL HUB MOUNT, WITH CIRCUIT BREAKER
product family features
Complete line of control transformers from 20 VA to 375 VA,Foot and hub mounting on most models,All models UL listed, many are Class 2 rated,Ambient temp -30 degrees to 140 degrees F (0 degrees to 60 degrees C),Color-coded wire leads,One year warranty
more information & related documents
The Functional Devices RIB TR Series offers a complete line of control transformers for use in building automation and temperature control systems. The series includes transformer VA ratings from 20 VA up through 375 VA and primary voltages of 120, 208, 240, 277, and 480 VAC. Isolation transformers for 24 VAC circuits are also included. All RIB TR Series transformers are UL listed and feature split-bobbin construction. Some also have a secondary circuit breaker.
TRANSFORMER, 100VA, 120/240/277/480 VAC TO 24 VAC, FOOT/DUAL HUB MOUNT, CIRCUIT BREAKER

Functional_Devices-transformers-style-guide

Functional_Devices-Transformer-Quick-Reference-Guide

TR100VA001US Data Sheet

TR100VA002US Data Sheet

TR100VA004US Data Sheet

TR40VA001US Data Sheet

TR40VA002US Data Sheet

TR50VA001US Data Sheet

TR50VA004US Data Sheet

TR50VA005US Data Sheet

TR100VA001 Datasheet

TR100VA004 Datasheet

TR150VA001 Datasheet

TR175VA001 Datasheet

TR20VA001 Datasheet

TR240VA001 Datasheet

TR300VA002 Datasheet

TR375VA001 Datasheet

TR40VA001 Datasheet

TR40VA002 Datasheet

TR50VA001 Datasheet

TR75VA001 Datasheet

TR85VA002 Datasheet