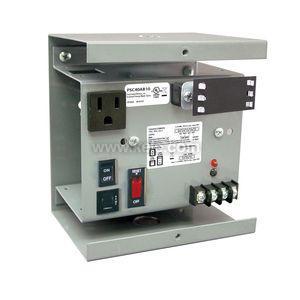 PSC40AB10 | FUNCTIONAL DEVICES INC. | Power Supplies
Enclosed Single 40VA Power Supply, 120 Vac to 24 Vac
Manufacturer:
FUNCTIONAL DEVICES INC.
MPN:
PSC40AB10
SKU:
PSC40AB10
add to cart

product specifications
On/Off Control||Equipment Over-Current Protection||Power Indication||High/Low Voltage Separation||Conveinence Receptacle
Enclosed Single 40VA Power Supply, 120 Vac to 24 Vac
TRANSFORMER, 40 VA, 120 VAC, PLATE MOUNT
product family features
Enclosed or panel mount models
Combination on/off switch/circuit breakers for the input and output
LED indication of the output
more information & related documents
The Functional Devices Model PSB40AB10, PSB100AB10, PSC40AB10, and PSC100AB10 24VAC Class 2 power sources are pre-packaged in a metal enclosure. These are used in temperature control systems, industrial applications and building automation systems, BAS. The panel-mount versions, PSB40AB10 and PSB100AB10, are available without the metal enclosure. These power supply units are available with either 40VA or 100VA power ratings. All models accept 120 volt AC input. The combination on/off switch and circuit breaker controls the output and a second on/off switch and breaker combination controls the incoming 120 volt AC power. Other features include a 120 volt AC convenience outlet, terminal strip wiring and LED indication of the output.
POWER SUPPLY, 40VA, 120:24VAC, ENCLOSED