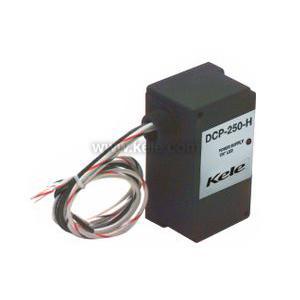 DCP-250-H | Kele | Power Supplies
DC Power Supply, 120 VAC Input to 24 VDC Out, Hub Mount
Manufacturer:
Kele
MPN:
DCP-250-H
SKU:
DCP-250-H
Availability:
782 In Stock
product specifications
Building Automation System||HVAC||BAS
DC Power Supply, 120 VAC Input to 24 VDC Out, Hub Mount
POWER SUPPLY, 120 VAC||110-125 VAC, 24 VDC, 0.25 A
product family features
Flexible mounting for hub, panel/surface, DIN rail,Compact size,Fully enclosed,Color-coded wiring,LED indication,Transformer isolated
more information & related documents
The DCP-250 enclosed DC power supply from Kele is a unique DC power supply that provides regulated 24 volt DC power from a 120 volt AC input. It is well suited for powering transmitters, transducers, actuators, and other equipment in building automation systems, BAS, and temperature control applications. When ordering the DCP-250 specify hub mounting, surface mounting in a panel, or DIN rail mounting.