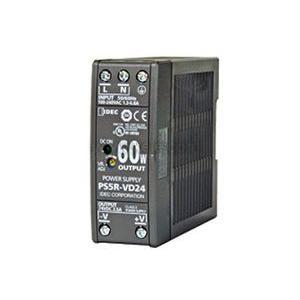 PS5R-VD24 | IDEC | Power Supplies
Power Supply Din Rail Mount 60W 24VDC Universal input 85-264VAC;100-370VDC
Manufacturer:
IDEC
MPN:
PS5R-VD24
SKU:
PS5R-VD24
Availability:
489 In Stock
product specifications
Power Supply Din Rail Mount 60W 24VDC Universal input 85-264VAC;100-370VDC
PWR SPLY DIN RAIL 60W 24VDC 85-264VAC;100-370VDC
product family features
Small size to save panel space,DIN rail/surface mount enclosure,Slim-line models to save valuable panel space,High efficiency operation for minimizing heat generation in control panels,Time-saving, spring-loaded screw terminals,One year warranty
more information & related documents
The Idec PS5R-V Series of switching and linear power supplies is available with an output of 12 or 24 VDC and output power from 7.5-480W. The output is short circuit protected and regulated. These switching power supplies, which minimize the heat generated in control panels, have a much higher efficiency than linear power supplies. They are small and completely enclosed, and they can be DIN rail or surface mounted.
POWER SUPPLY 60W 24VDC DIN COMPACT SIZE