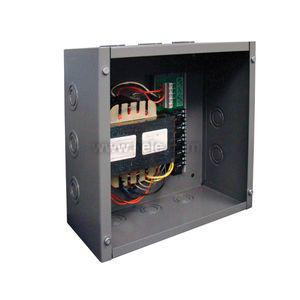 PSH500A | Functional Devices | Power Supplies
Enclosed 500VA Power Supply with (5) 100VA Class 2 Outputs, 480/277/240/120 Vac to 24 Vac
Brand:
Functional Devices
MPN:
PSH500A
SKU:
PSH500A
Today's Price:
$449.84
(61% OFF LIST PRICE!)
Availability:
1,743 In Stock
product series specifications
Supply Voltage: 480/277/240/120 VAC 50/60 Hz
Output Voltage: 24 VAC, Class 2 output
200A: 40VA per circuit
300A, 500A: 100VA per circuit
Output Control: Combination on/off switch and 4A circuit breaker for each output
Output Indication: Red LED for each 24 VAC output
Dimensions:

PSH Models (Box): 12.125"H x 12.125"W x 6.0"D (30.8 x 30.8 x 15.2 cm)
PSMN Models (Plate): 11.33"H x 11.4"W x 7.0"D (22.8 x 28.9 x 17.8 cm)
Enclosure Rating: (PSH) NEMA1 with screw cover
Weight:

PSH200A: 18.6 lb (8.44 Kg)
PSH300A: 18.0 lb (8.17 Kg)
PSH500A: 30.16 lb (13.68 Kg)
PSMN200A: 12.38 lb (5.62 Kg)
PSMN300A: 12.55 lb (5.69 Kg)
PSMN500A: 20.6 lb (9.34 Kg)
Approvals: CE, File #E68805
Warranty: 1 Year
product series features
Class 2, UL Listed
3, 4, and 5 circuit models
On/Off switch and circuit breakers for each output
NEMA 1 enclosed or panel plate mount models
Terminal strip wiring
LED indication of each output
more information & related documents
The Functional Devices PSH200A, PSH300A and PSH500A are power sources that are pre-packaged in a metal enclosure and provide isolated, 24 VAC, 40VA or 100VA, Class 2 outputs. The panel mount versions PSMN200A, PSMN300A and PSMN500A are provided without the metal enclosure. All models have combination on/off switch/circuit breakers to control each output. Other handy features include LED indication of each output and terminal strip wiring. Kele is the leading supplier of building automation products. When you need the right product, right now, count on Kele.
POWER SUP., 240/120V IN, FIVE 24VAC, 100VA OUTPUTS