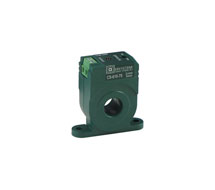 CS-650-20 | Greystone Energy Systems | Power Monitoring & Protection
CUR SENSOR MINI SOLID 0-20 AMPS 0-5 VDC OUT
Manufacturer:
Greystone Energy Systems
MPN:
CS-650-20
SKU:
CS-650-20
availability:Call Kele For Availability
add to cart

product family specifications
600VAC, Insolated Conductors
5 to 90% RH non-condensing
1.9 x 1.93 x 0.83 in (48 x 49 x 21 mm)
CS-650, CS-651 Self-powered
product family features
Up to 100 Amps input current
more information & related documents
The CS-6XX-XX Series of mini-current sensors monitor line current for electrical loads such as pumps, conveyors, machine tools or fans and provide an output of 4-20 mA, 0-5 Vdc or 0-10 Vdc (Model specific) to represent the load current. The CS-650 & CS-651 models require no external power supply as they are totally powered by induction from the AC line being monitored. The CS-652 series is loop-powered and require an external 15-30 Vdc power supply.
CUR SENSOR MINI SOLID 0-20 AMPS 0-5 VDC OUT
CS-6xx Mini Sensor Datasheet