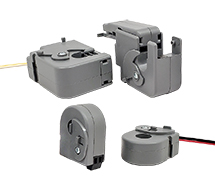 * product family image displayed
RIBXGTA-ECM | Functional Devices | Power Monitoring & Protection
CURRENT SWITCH, SPLIT CORE, ADJUSTABLE, .25-150 AM
Manufacturer:
Functional Devices
MPN:
RIBXGTA-ECM
SKU:
RIBXGTA-ECM
Availability:
Lead time > 15 days. See alternatives below or chat with Sales.
add to cart

product family specifications
RIBXKF, RIBXKTF 0.25-150A
RIBXGF, RIBXGTF 0.35-150A
RIBXGA, RIBXGTA 0.75-150A
RIBXKF, RIBXKTF 0.25A, fixed
RIBXKA, RIBXKTA 0.5-150A, adjustable
RIBXGF, RIBXGTF 0.35A, fixed
RIBXGFL, RIBXGTFL 0.75A, fixed
RIBXGA, RIBXGTA 0.75-150A, adjustable
Solid state, normally open
4-20 mA @ 600Ω, 30 mA maximum
Suitable for most VFD applications
16" (40.6 cm), 18 AWG, 600V wires or terminals for 14-22 AWG
-30° to 140℉ (-34.4° to 60℃)
UL916, UL864 UL File #S7312, CE, RoHs
product family features
Solid- and split-core switch models have fixed (go/no go) or adjustable trip points
Solid-core transducer models have a 4-20 mA output
Ratcheting cam clamp to secure switch to wire
more information & related documents
The Functional Devices RIBXK, RIBXG, RIBXK420 Series include both current-operated switches and current transducers. Solid-core and split-core current-operated switch models have a solid-state switch that operates when the current level sensed by the internal current transformer exceeds a fixed or adjustable set point. Solid-core current transducer models output a 4-20 mA signal proportional to the line current being monitored.
CURRENT SWITCH, SPLIT CORE, ADJUSTABLE, .25-150 AM