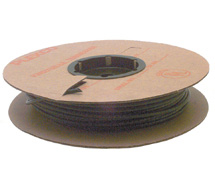 * product family image displayed
1J-149-10 | Freelin-Wade Co | Pneumatics & Fittings
5/16IN X 3/16IN CLEAR TUBING-100 FT BAG
Manufacturer:
Freelin-Wade Co
MPN:
1J-149-10
SKU:
1J-149-10
add to cart

product family specifications
Specifications for T-100 Series
T-100 Series ASTM Test D-1599; typical value >500 psig (3,448 kPa)
T-141 only 320 psig (2,206 kPa) @ 75℉ (24℃) derated to 160 psig (1,103 kPa) @ 150℉ (66℃)
ASTM Test D-747; typical value 3000 psig ±5000
ASTM Test D-792; typical value 1.1 ±0.005 g/cc
ASTM Test D-638; typical value 600%
ASTM Test D-1238; typical value 0.6 ±0.1 g/10 min
Polyethylene Classification
ASTM Test D-1248; Type I, Class B or C, Category 4
ASTM Test D-1700; typical value 97 ±3
ASTM Test D-1700; typical value 45 ±3
UL 1820; peak optical density 0.5, maximum optical density 0.15
ASTM Test D-1693; typical value V 200 hours
UL 1820; typical value 0.5
ASTM Test D-638; typical value >2000 psig (13,790 kPa)
ASTM Test D-576; maximum value 5
UL 94 V-2; UL 910 NFPA 90A
product family features
T-100 SERIES POLYETHYLENE:
High stress-crack resistance
Easy to handle and install
Resistant to ultraviolet breakdown
Meets or exceeds every requirement for flame retardant polyethylene tubing set by the pneumatic controls industry
Numbering system for multitube identification
Available with colored stripes
more information & related documents
T-100 Series pneumatic tubing is a superior quality, flame-retardant, stress-crack resistant, exclusively compounded polyethylene tubing that provides long-term, reliable performance. This tubing is suitable for installation in air ducts, plenums, and other spaces used for environmental air. The T-141 is made of extremely flexible, clear-blue polyurethane that is not flame-retardant-rated and is used only for inside panels. It is kink-resistant, has an excellent memory, and features high compression strength and outstanding abrasive resistance. This tubing is indispensable for Building Automation Systems, BAS, and HVAC applications.
5/16IN X 3/16IN CLEAR TUBING-100 FT BAG
Pneumatic Tubing Flyer