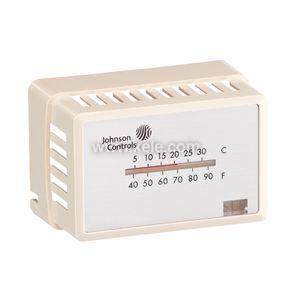 T-4000-2142 | Johnson Controls | Pneumatics & Fittings
Beige Plastic Cover Horizontal, W/ Thermometer, Set Point Window
Manufacturer:
Johnson Controls
MPN:
T-4000-2142
SKU:
T-4000-2142
Availability:
Usually Ships in Less Than 11 Business Days
product specifications
Beige Plastic Cover Horizontal, W/ Thermometer, Set Point Window
COVER W/JCI LOGO SP WINDOW
product family features
Adjustable sensitivities and set points,Individual set points on dual temperature thermostats,Pneumatic feedback for greater accuracy,Vibration and shock resistant,Meets governmental and commercial requirements,Single and dual bimetal sensing elements,Optional all-metal covers
more information & related documents
The T4000 Series pneumatic room thermostats provide individual space temperature control in all types of heating and cooling applications for HVAC systems. By producing a proportional output signal, these pneumatic thermostats modulate pneumatic valves and damper actuators in response to load changes in the space. A variety of high volume and low volume output thermostats are available to meet the functional requirements of any building automation system, BAS. The T4000 Series pneumatic thermostat is available in one- and two-pipe, dual temperature, horizontal, and vertical configurations.
COVER W/JCI LOGO SP WINDOW