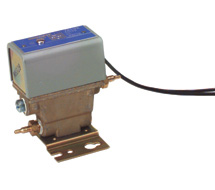 * product family image displayed
V11HGA-100 | Johnson Controls | Pneumatics & Fittings
3-WAY AIR VALVE 24V
Manufacturer:
Johnson Controls
MPN:
V11HGA-100
SKU:
V11HGA-100
Availability:
38 In Stock
add to cart

product family specifications
1/8" NPT normally open port; barbs for 1/4" OD tubing on common and normally closed port
Separately ordered key, Y99AA-4
2592 scim, 1.5 scfm (42 lpm) @ 15 psig (105 kPa) supply
AC models 32° to 140℉ (0° to 60℃)
DC models 32° to 104℉ (0° to 40℃)
0 to 20 psig (0 to 138 kPa)
18" leads, 18 AWG, 7/8" knockout for 1/2" conduit connector
product family features
Three-port connection C, N.O., N.C.
Manual operation for testing and checkout of some models
more information & related documents
The V11 Series three-way solenoid air valves have a capacity of 2592 scim and are proven performers in building automation systems, BAS. Each air solenoid valve has three connections: a normally open (N.O.) port with 1/8" FNPT connection, and normally closed (N.C.) and common (COM) ports with barbed fittings for 1/4&#8243 OD tubing. The posts in the die cast aluminum 3 way air valve solenoid body have No. 60 mesh (217 micron openings) monel screens to prevent foreign material from entering the valve ports.
V11 Series Technical Bulletin