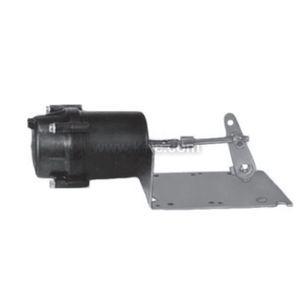 MCP-80315111 | KMC Controls | Pneumatics & Fittings
Actuator: Metal, 1-11/16", 8-13 PSI, 1/2" Crank Arm
Manufacturer:
KMC Controls
MPN:
MCP-80315111
SKU:
MCP-80315111
availability:Usually Ships in Less Than 8 Business Days
add to cart

product specifications
Actuator: Metal, 1-11/16", 8-13 PSI, 1/2" Crank Arm
PNEU ACT/8-13 PSI/BRZ BUSHING/LINKAGE 1/2 SHAFT
product family features
The metal body is ideal for ceiling installations
Mounting bracket supplied on all models except -2099 and -3003
Crank arm linkage or direct connection between damper and actuator shaft available
more information & related documents
KMC MCP-8031 pneumatic actuators are designed to control small dampers in HVAC air handling systems or air terminal units. They feature a right-angle bracket for mounting to the side of VAV terminals, ductwork, or damper frame. The metal body is also suited to ceiling plenum installations where nonmetallic actuators are not allowed. The actuator may be rotated in its bracket (supplied on most models) so air connections can be made where needed. Actuators are supplied with a clevis and optional clevis/cotter pins or crank arm linkage.
PNEU ACT/8-13 PSI/BRZ BUSHING/LINKAGE 1/2 SHAFT
MCP Series Datasheet