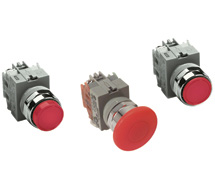 * product family image displayed
AYW410-R | IDEC | Panel Fabrication
PUSH-PULL 1NO MUSHROOM SWITCH
Manufacturer:
IDEC
MPN:
AYW410-R
SKU:
AYW410-R
product family specifications
10A, 600 VAC/VDC max.; 5mA, 3 VAC/VDC minimum
50 mΩ maximum (inital value)
500,000 minimum operations
NEMA 1, 2, 3R, 4, 4X, 12, 13
Maximum 2 x 14 AWG or 1 x 12 AWG
500,000 minimum operations
-13° to 122℉ (-25° to 50℃)
Panel thickness adjustment ring, 0.04" to 0.24" (0.10 to 0.61 cm)
UL File #E68961; CSA File #LR48366, CE, RoHs
product family features
Flush, extended, or mushroom style available
Snap-fit blocks with N.O. and N.C. contacts
Self-cleaning silver contacts
Rugged, oil-tight construction
more information & related documents
The ABW Series and AOW Series push button switches are for manual control of fans, pumps, compressors, or control circuits. This variety of push button switch options has proven its reliability in fan control, pump control, and compressor control applications for HVAC applications and building automation systems, BAS. If a project requires assembly of multiple panels configured in the same way, consider using Kele's Custom Panel Shop. Experienced panel technicians will assemble the panels according to specifications and drawings. Then, panels are shipped to a desired location. The information is saved so additional panels can be easily ordered on demand. Stop spending time on panel fabrication and let the experts do it.
PUSH-PULL 1NO MUSHROOM SWITCH