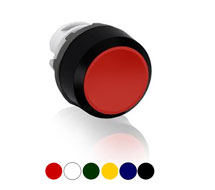 MP2-11G01 | ABB - INDUSTRIAL CONNECTIONS & SOLUTIONS LLC | Panel Fabrication
PUSH BUTTON 22 MM RND MAIN FLUSH ILL GREEN 1 NC
Manufacturer:
ABB - INDUSTRIAL CONNECTIONS & SOLUTIONS LLC
MPN:
MP2-11G01
SKU:
MP2-11G01
availability:Usually Ships in Less Than 62 Business Days
add to cart

product family specifications
more information & related documents
The ABB MPX-11 Series Illuminated Pushbuttons are NEMA 1, 3R, 4, 4X, 12 and 13 rated. They are modular stackable contact blocks with wide range of lens colors and LEDS. THe MPX-11 are round flush and extended styles with either momentery or maintained action.
PUSH BUTTON 22 MM RND MAIN FLUSH ILL GREEN 1 NC
ABB - INDUSTRIAL CONNECTIONS & SOLUTIONS LLC
MPX-11 Series datasheet