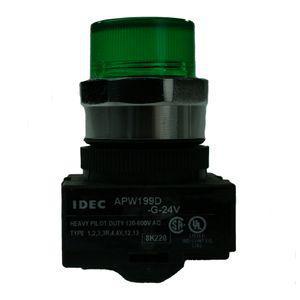 APW199D-G-24V | IDEC CORPORATION | Panel Fabrication
Pilot/Flush/Led/24V/Green Lens
Manufacturer:
IDEC CORPORATION
MPN:
APW199D-G-24V
SKU:
APW199D-G-24
availability:Usually Ships in Less Than 10 Business Days
add to cart

product specifications
Pilot/Flush/Led/24V/Green Lens
PILOT/FLUSH/LED/24V/GREEN LENS
product family features
Rugged, oil-tight construction
Bezel-threaded lock ring for easy panel installation
Incandescent or LED lamps
Multiple voltage input ranges
more information & related documents
The APW Series IDEC pilot lights include replaceable incandescent and LED pilot lights. These lights can be mounted on control panels to provide immediate visual status of mechanical equipment such as fans, pumps, compressors, or control circuits on HVAC applications and building automation systems, BAS. If a project requires multiple panels configured in the same way, consider using Kele's Custom Panel Shop. Experienced panel technicians will assemble the panels according to specifications and drawings. Then, panels are shipped to a desired location. The information is saved so additional panels can be easily ordered on demand. Stop spending time on panel fabrication and let the experts do it.
PILOT/FLUSH/LED/24V/GREEN LENS