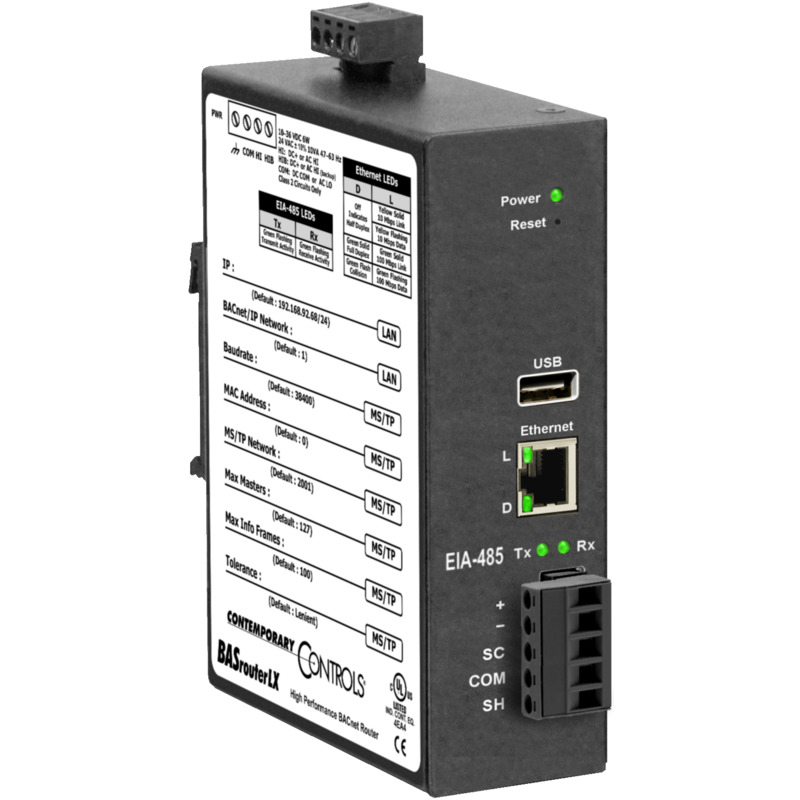 BASRTLX-B | Contemporary Controls | Network & Wireless
High-Performance BACnet Multi-Network Router
Manufacturer:
Contemporary Controls
MPN:
BASRTLX-B
SKU:
BASRTLX-B
add to cart

product specifications
High-Performance BACnet Multi-Network Router
more information & related documents
The BASRT-B BACnet multi-network router provides stand-alone routing between BACnet networks such as BACnet/IP, BACnet Ethernet, and BACnet MSTP. This allows the system integrator to mix BACnet network technologies within a single BACnet internetwork. There are two physical communication ports on the BAS Router. One is a 10/100 Mbps Ethernet port and the other an isolated MS/TP port. Configuration is accomplished via a web page. The BACnet router is housed in a plastic case that is powered from a USB port on a laptop computer. There is one MS/TP port and one 10/100 Mbps Ethernet port.
BAS ROUTER BACNET/IP TO MS/TP, 50 BBMD HIGH PERFOM
BASRT-B Installation Guide