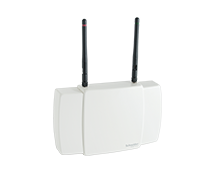 * product family image displayed
MPM-ACC-ANT-D00 | Schneider Electric Buildings | Network & Wireless
ACCESSORY ANTENNA FOR MPM, ENOCEAN 868MHZ
Manufacturer:
Schneider Electric Buildings
MPN:
MPM-ACC-ANT-D00
SKU:
MPM-ACC-ANT-D00
Availability:
Usually Ships in Less Than 10 Business Days
product family specifications
RJ45 jack Ethernet(10/100Mbps), BACnet/IP.
CAN H (high) and CAN L (low) terminals
oBIX Open Building Information Xchange (oBIX)
FTP File Transfer Protocol (FTP)
EWS Exchange Web Services (EWS)
CAN Hard Wired CANbus (125-500Kbps)
Din-rail, wall or ceiling mount
2-CAN com., RJ45 Ethernet
7.52″H x 4.57″W x 1.77″D (191 x 116 x 45 mm)
EnOcean, ZigBee (product specific)
EnOcean 868 or 902 MHz (product specific)
ZigBee Pro 2.4MHz (high Power), 16 channels
Direct Sequence Spread Spectrum (DSSS)
ZigBee Pro 65 mW (18 dBm)
Transmits on communication command
Two RP-SMA, (Rev. polarity, Sub-Miniature ver. A)
ZigBee has 16 channels selectable
UL916, CSA, CE, RoHS, Japanese Radio Law
product family features
Wireless control of EnOcean (128 devices)
Wireless control of ZigBee (30 devices)
Programmable via StruxureWare™ Building Expert
BACnet, EcoStruxure Web Services (EWS) & oBIX Protocols
Real-time response to scripting/graphical programming
more information & related documents
The Schneider Electric MPM-GW Series multi-purpose wireless manager and gateway enable the control, monitoring and management of entire sites via StruxureWare™ Building Expert. It has an aesthetic look, similar to a router, allowing for in-room deployment. It supports control and gateway functionalities for wireless peripherals for a variety of applications. All models have an embedded web server hosting Building Expert, a web-based intelligent building management system that allows complete configuration and management of small sites.
ACCESSORY ANTENNA FOR MPM, ENOCEAN 868MHZ
Schneider Electric Buildings

SmartStruxure Lite MPM Datasheet