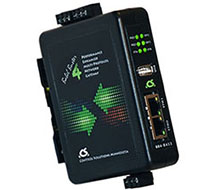 * product family image displayed
BBSPXGW | Control Solutions | Network & Wireless
BABEL BUSTER SPX-GW MODBUS TCP/RTU PASS-THROUGH GATEWAY
Manufacturer:
Control Solutions
MPN:
BBSPXGW
SKU:
BBSPXGW
Availability:
Contact Kele for more information
product family specifications
product family features
Dual Ethernet ports
Dual, isolated RS-485 ports
Faster, more memory
Secure, SSL support
SNMPv3 support
RADIUS authentication support
Modbus TCP client and server
Dual Modbus RTU master or slave
SNMP agent
SNMP client/manager
SNMP trap send and receive
USB flash drive
Slim DIN rail package
Built-in configuration tools
Customizable user interface
Drivers included
Free software upgrades for life
more information & related documents
The new Control Solutions Babel Buster® BB4-8442 Series is a performance-enhanced multi-protocol network gateway designed to serve many network gateway needs in a single package. The BB4-8422 includes dual Ethernet ports and dual isolated RS-485 ports. This new generation gateway features a faster processor, greatly increased memory capacity, and network security support. The user may assign any supported protocol to any port. The Control Solutions Babel Buster BB4-8422 brings together all of the best features of our most popular Babel Buster two family gateways plus everything else you asked for along the way. By incorporating a full implementation of Linux, we leave the door wide open to adaptation to an endless array of protocols, applications, and features.
BABEL BUSTER SPX-GW MODBUS TCP/RTU PASS-THROUGH GATEWAY

Babel Buster BB4-8422 Datasheet