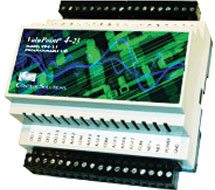 * product family image displayed
VP4-2370 | Control Solutions | Network & Wireless
VALUPOINT VP4-2370 PROGRAMMABLE I/O FOR BACNET IP
Manufacturer:
Control Solutions
MPN:
VP4-2370
SKU:
VP4-2370
Availability:
Usually Ships in Less Than 4 Business Days
add to cart

product family specifications
18-30 VDC @ 300 mA or 24 VAC @ 1.2 VA, 50/60 Hz
BACnet MS/TP at 9600 to 76800 baud
14 Universal Inputs 0-10 VDC, thermistor, digital, dry contact, pulse
Accuracy 0.1% reference, up to 16-bit resolution, 10-bit fast scan mode
Non-volatile totalizing count inputs (10Hz on all channels, to 1kHz on 2 channels)
3 Output 4-20mA (0-20mA), 8-bit resolution, 2-10VDC with 500 ohm load max.
2A @ 120 VAC or 2A @ 30 VDC
64K Flash for User Program
i.CanDrawIt® graphical programming
-40° to 185℉ (-40° to 85℃)
3.94″ H x 4.13″ W x 2.36″D
UL File# 312255, CE, RoHS
product family features
BACnet MS/TP and Modbus RTU model options
Implements B-ASC BACnet Standard Profile
Freely programmable - i.CanDrawIt® graphical programming
BACnet client for interface to other slave devices
Configurable object allocation, up to 200 objects (VP4-2330)
Up to 320 Modbus Registers (VP4-2310)
more information & related documents
The Control Solutions ValuPoint® Model VP4-2330 programmable I/O for BACnet MS/TP is a BACnet Application Specific Controller (B-ASC) that includes user programmable control, 14 analog/universal inputs, 3 analog outputs, and 6 relay outputs. VP4-2330 also includes a BACnet client for interface with other MS/TP devices. It includes an enhanced processor and expanded memory capacity along with a robust feature set. Model VP4-2310 supports Modbus RTU master or slave with 14 analog/univeral inputs, 3 analog outpus and 6 digital outputs.
VALUPOINT VP4-2370 PROGRAMMABLE I/O FOR BACNET IP