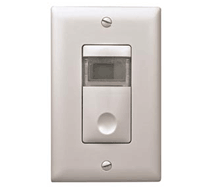 * product family image displayed
TS-400-24-W | Watt Stopper, Legrand | Lighting Controls
DIGITAL TIME SWITCH 24VAC - WHITE
Manufacturer:
Watt Stopper, Legrand
MPN:
TS-400-24-W
SKU:
TS-400-24-W
add to cart

product family specifications
Requires power to operate
TS-400 100/277 VAC/60 Hz, 15 mA
TS-400-24 24 VDC or 24 VAC/60 Hz, 15 mA
Push Button to start preset count-down timer
On activation the contacts transfer from normal
Relay Output Configuration
TS-400 SPST-N.O., Referance to AC neutral
TS-40024 SPDT-Isolated low voltage contact
TS-400 Ballast @120 VAC, 800W
Manual button Imediate "ON/OFF"
Clock Accuracy Not Specified
Opt. 1 minute "Flash" before OFF
Temperary "Time scrolling" hold ON
xx db Audible beep (Can be disabled)
Battery Backup Not Specified
Countdown Timer 5 min to 12 hours
Count-Down Adjustable to 5 min. to 1 Hour, in 5 min. increments
Count Down Adjustable to 1 hour to 12 Hours, in 15 min. increments
Vertical, Single gang switch box (not included)
1.79″W x 2.66″H x 1.76″D, (4.6 x x6.7 x 4.5 cm)
more information & related documents
The TS-400 Series WattStopper InteliSwitch is a digital time switch that automatically turns the load off after a preset amount of time. The load can be turned off anytime during the timer's countdown by pushing the on/off button. Designed specifically for building automation systems, BAS, these time switches have four user-adjustable features: Time-Out Delay - The timer can be adjusted to hold the load on for five minutes to 12 hours. This is adjusted by setting the on-off button located on the left side of the unit. Time Scrolling - In situations where the load needs to be held on for a different amount of time than the preset time out period, time scrolling allows the user to manually and temporarily override the time out period. Flash Option - If this option is on, the load will flash once, one minute before the time-out period expires. Set this option with the on-off switch. Beeper Option - If this option is on, the timer will beep every five seconds during the last minute of the time-out period. Set this option with the on-off button.
DIGITAL TIME SWITCH 24VAC - WHITE