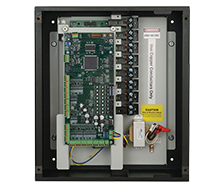 * product family image displayed
RPDS48-48-4-00-05 | Kele | Lighting Controls
RELAY PANEL
Manufacturer:
Kele
MPN:
RPDS48-48-4-00-05
SKU:
RPDS48-48-4-00-05
Availability:
Usually Ships in Less Than 14 Business Days
add to cart

product family specifications
120, 277, 347 VAC ±10%, 50-60 Hz (per order)
24 VAC, 800 mA (for full wave rectified power supply only)
Short Circuit Current (SCCR)
Lighting Relay Output Capacity
8, 16, 32, 48 or 64 relay (per order)
24, DI or AI, 0-5 VDC, 0-10 VDC, or 4-20 mA (with +24 VDC PS)
1 million no load, 300K full load
Screw clamp solid or stranded
(Double 10-14 AWG or single 8 AWG)
Real-time clock with BACnet time sync
Field Device Communication
CANbus, Daisy Chain Wiring only
CTS1CHWH CANbus comm. 1 button light switch (white)
CTS2CHWH CANbus comm. 2 button light switch (white)
CTS4CHWH CANbus comm. 4 button light switch (white)
Tech Kit 2.0 (Required on first install), Micro-B USB or Bluetooth Wireless
Switch interlock programmable (singles and groups), No analog interlocking
Surface, Hi V/Low V separated
NEMA 1,16ga steel with black powder coat finish
RPXX08- 13.00"W x 14.75"H x 5.75"D ( 33.0 x 37.5 x 14.6 cm)
RPXX16- 18.00"W x 16.20"H x 5.75"D (45.7 x 41.1 x 14.6 cm)
RPXX32- 18.00"W x 25.00"H x 5.75"D (63.5 x 45.7 x 14.6 mm)
RPXX48- 18.00"W x 33.80"H x 5.75"D (45.7 x 85.9 x 14.6 cm)
RPXX64- 18.00"W x 42.60"H x 5.75"D (45.7 x 10.82 x 14.6 cm)
RPXX32- 47.5 lb (21.5 Kg)
RPXX48- 63.5 lb (28.8 kg)
RPXX64- 82.5 lb (37.4 kg)
UL 916 Flle #E133813, FCC Part 15, CEC Title 24, Electronics meet or exceed IEC Level 3
product family features
Lighting panels with 8, 16, 32 & 48 relay capacity
UL924 emergency bypass (optional)
BTL Listed, UL Listed
Dimming (DLH / Presets)
BACnet MS/TP communication to BAS network
CANbus network for Satellite and Capacitive Touch Stations (CTS)
Line and low voltage compartment separation
Upgradable Controller Board firmware
Available options:

Low/Line Voltage Bays
Multi-pole Lighting Contactors
24VAC Auxiliary Transformer
24VDC Power Supply
BACnet IP Router
UL924 Emergency Bypass
347VAC Transformer
more information & related documents
The Blue Ridge Technologies Relay Panel (RP) is a UL Listed lighting control panel. RP may be scheduled from any BACnet BAS and is compatible with all low voltage switches, occupancy sensors, and light level sensors. RP mounts near the circuit breaker panel to provide centralized control of branch lighting circuits. Relay Panels are available in 08, 16, 32, and 48 sizes to accommodate up to 48 Lighting Tough Relays (LTR).