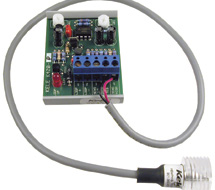 PSR-1-1K | Kele | Lighting Controls
PHOTOCELL WITH 1K RESISTOR
Manufacturer:
Kele
MPN:
PSR-1-1K
SKU:
PSR-1-1K
add to cart

product family specifications
Non-Linear Reverse acting light sensitive resistor
1 megΩ @ 0.03 fc (Dark) and ≥ 1KΩ @100 fc (Bright)
4-20mA = 100 fc to 0 fc, Reverse acting
Red LED indicates 4-20mA @ 675Ω, loop power
Resistive, Cadmium selenide (CdSe)
± 40%, Used only for Dark/Bright indication
Sensor only (not calibrate-able)
Transmitter factory calibrated (Zero and Span)
-13° to 167℉ (-25° to 75℃)
10% to 95% Non-condensing
1/2 FNPT w/ Teflon tape (Facing North)
Sensor w/ Pnl. Mnt. transmitter (<500' of 18 awg)
NEMA 4 after mounting w/ Teflon tape
1/2″MNPT plug, w/1.75″ W x 2.25″H PC board
4.63″W x 2.88" H x 2″ D, (11.7 x 7.3 x 5 cm)
product family features
Economical dark/light sensing
Track-mounted PSR-1-T transmitter
Optional weatherproof enclosure
more information & related documents
The Model PSR-1 Photo-Sensitive Sensor may be used as an input to indicate the presence or absence of light at the sensor location by a change in resistance. The Model PSR1-T Transmitter is a PSR-1 coupled with a 4-20 mA transmitter is ideal for energy savings and cost savings in Building Automation System, BAS, applications. The sensor is designed to be mounted in the end of a weatherproof conduit box.
PHOTOCELL WITH 1K RESISTOR